Welcome to the the USAG Fort Leonard Wood iSportsman Portal. iSportsman is an enterprise-level, web-based system used by FLW to (1) ensure the safety of those enjoying outdoor recreation on the installation, (2) issue recreational, hunting, fishing, and wood cutting permits, (3) control access to various areas, especially range and training areas, (4) collect conservation information, and (5) communicate with recreationists.
Using and understanding iSportsman is easy. Depending on the circumstances, there are eight basic steps to using iSportsman and enjoying the outdoors on Fort Leonard Wood. Links to more information about each step can be found under the "Information" tab above.
---
New and Noteworthy
---
December 2, 2021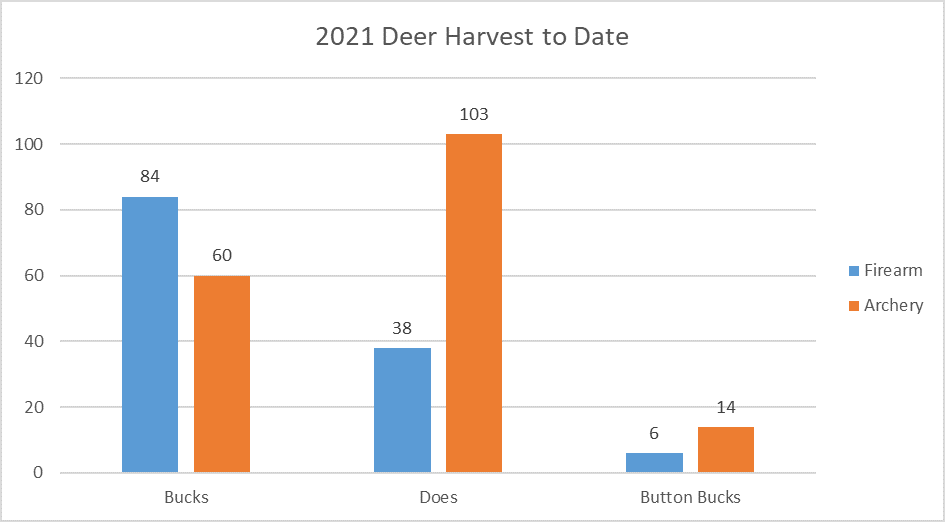 ---
November 10, 2021
Be Bear Aware. Bears are protected.
---
October 18, 2021
Two CWD self-serve freezers for deer heads are available on FLW
1) Outdoor Adeventure Canter- Bldg 2290 FLW K Rd
2) The intersection of FLW 38 and FLW 1
---
September 28, 2021
Send us your wildlife photos to dustin.e.moss.civ@mail.mil
---
September 23, 2021
Permanent hunting blinds are loacted in Hunting Areas 3, 7, 14, 26A and 32. These blinds are primarily for use by Wounded Warriors and disabled persons. If unoccupied, the blinds may be used by the general hunting public. Check-in is required for the use of the blinds.
---
September 22, 2021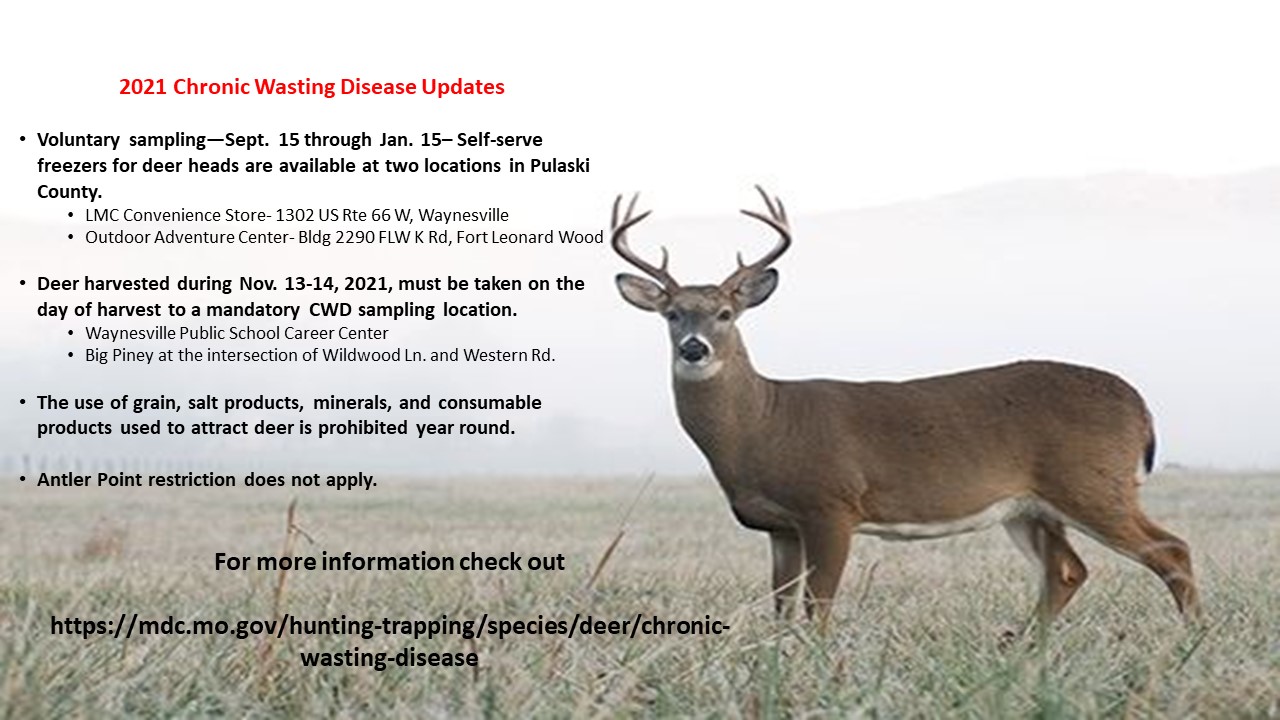 ---
September 21, 2021
Attention Hunters!
The boundaries for Hunting Area 7 have changed. The area around miller cave south of FLW N and West of TA 61 is now closed to all entry including hunting. The FLW Hunting and Fishing map on iSportsman has been updated to reflect this change. Please refer to this map and download the new version if you are using the Avenza app.
---
August 24, 2021
Current Information is Key to Stopping Feral Swine. Report FLW Sightings Directly to USDA Wildlife Services
573-247-3614
---
August 20, 2021
If you are planning to hunt the Cantonment Archery Areas this year please print the 2021 Face to Face Safety Brief document found on the cantonment hunting page or here at this link.
Please bring the document to DPW Natural Resources Branch, building 11400 second floor during normal operation hours M-F 0730-1600.
---
June 30, 2021
The Miller Cave Area is no longer available as a recreational use area.
---
May 3, 2021
General Order No. 6 has been rescinded. This will allow individuals that are Non-DOD ID Card holders to hunt and fish the installation once again. Individuals will need to have the appropriate permits and obtain an installation access pass.
https://www.army.mil/article/245803/general_order_number_6_to_be_rescinded_may_1
---
April 21, 2021
New Firewood Cutting Areas have been added. For more information check out the Firewwod Cutting Maps page.
---
February 26, 2021
Trout season opens tomorrow at Stone Mill Spring!!!! Check out MDC fishing page for the most recent regulations for trout season.
Check out the fishing maps page for the most recent fish habitat structure placement.
---
February 4,2021
Firewood Cutting Permits will soon be available through iSportsman. More information coming soon.
Regulations for Firewood Cutting can be found here!
---
December 23, 2020
---
October 29, 2020
Send us your 2020 wildlife photos!!!!!!
Send to dustin.e.moss.civ@mail.mil
---
October 8, 2020
There have been changes to Hunting Area 3. A portion of the hunting area west of the Outdoor Adventure Center and North of FLW K extending to the FLW boundary is now off limits to entry and hunting due to potential UXO. New FLW hunting and fishing maps have been created to reflect the changes and are available on the iSportsman website.
---
September 25, 2020
New updated 2020 Hunting Map available under the maps tab.
---
September 14, 2020
New regulations are in effect for transportation of crossbows and compound bows. FLW Reg 190-11 Physical Security of Arms, Ammunition, and Explosives was updated and went into effect in April 2020.
Crossbows must now be officially registered on FLW. A completed FLW form 1835/1835A documenting the registration must be presented to personnel when entering the installation at any Access Control Point (IACP). Registrations must be submitted to the Provost Marshal's Office Visitor Center, building 100 which is located at the main gate.
Crossbows and Compound bows must be declared when entering any IACP.
Crossbows and Compound bows must be transported in the trunk of a vehicle, or if no trunk is available, must be secured in a hard or soft container separated in the vehicle in a manner not readily accessible to the driver or passengers.
Crossbows must be transported un-cocked and all bolts or other projectiles will be secured separately.
---
June 18, 2020
Stone Mill Spring Branch
Stone Mill Spring Road from FLW 26 to the recreation area will be closed from Monday, June 22 through Friday, June 25 for maintenance work.
Stone Mill Spring recreation area will not be accessible from Fort Leonard Wood.
We appreciate your understanding, and thank you to the U.S. Forest Service for their help in repairing flood damage.
---